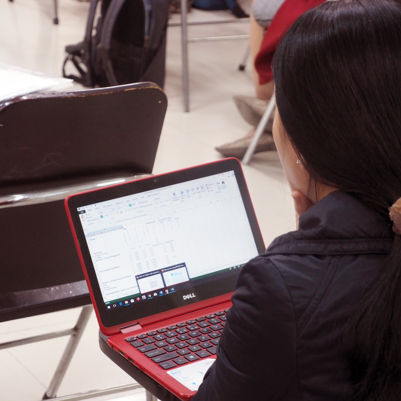 'The Ministry of Education and Training in Vietnam is responsible for the governance of general/academic education and higher education (training) in Vietnam.'
Challenge
Vietnam's Ministry of Education and Training stimulates the process to make a shift from knowledge-based testing to competency-based assessment. Instead of only learning facts, this form of assessment asks students to apply the skills and methods they have learned in their lessons to real world problems and situations.
A new approach to assessment
At the end of 2019, the ministry asked Cito to provide a series of training courses in Vietnam for test writers and teachers on competency-based assessment and computer-based technology (CBT) with World Bank funding. The training was aimed at the following domains: Mother tongue, Mathematics, Natural sciences and Social sciences. In addition, Cito was asked to provide manuals with background information and examples for competency-based assessment and computer-based technology.
Competency-based assessment training
In the competency-based assessment training, various aspects which play a role in the introduction of competency-based assessment were covered, such as the theoretical aspects of Evidence Centered Design, Higher Order Thinking Skills and criteria for the selection of (con)texts. As a result, item writers are now better equipped to develop items in relation to authentic (con)texts.
Computer-based testing training
The computer-based testing training addressed aspects that should be discussed before this type of testing can be implemented, consequences for the process of test construction, specific aspects related to item bank and test construction and the components of test delivery, reporting and analysis within a CBT-context. Also, illustrative examples were given of CBT-tasks for the domains involved.
The COVID pandemic asked a lot in terms of flexibility from the Cito experts and of our colleagues in Vietnam, both for the planning and for the realization of the project. Despite these challenges, we are very satisfied with the results of this project.
Anneke de Graaf, project director Cito
Challenges
At the beginning of March, the first series of training took place in Vietnam. Due to the COVID pandemic, the second series could not take place on location. We searched for other working methods and experimented with online training in different forms, such as live online courses and pre-recorded video training. We also organized several extra expert sessions for smaller groups.
After the training-sessions had taken place, Cito delivered reports for both computer-based testing and competency-based assessment for each of the four domains. With the help of these reports, new item writers and reviewers have a solid starting-point from which to proceed. The reports also include recommendations for next steps in test development and competency-based assessments.